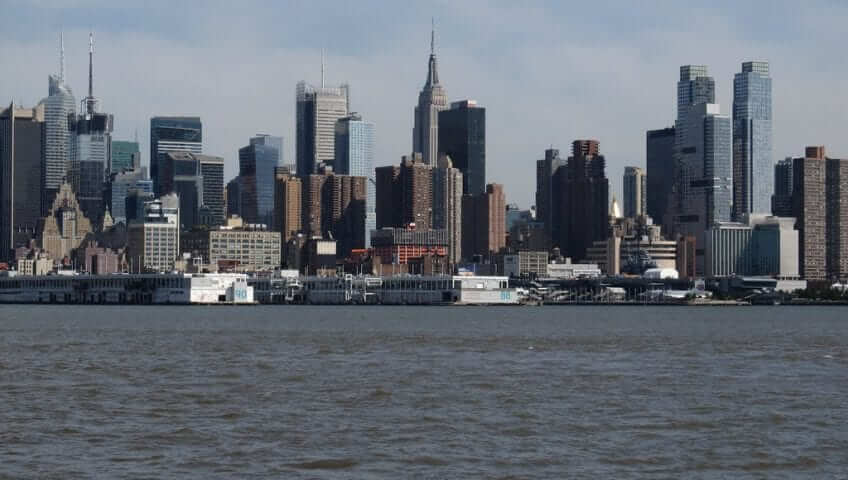 Things To Do In Weehawken
Located on the Hudson River in New Jersey, Weehawken is a popular destination for its historical landmarks, parks, and piers. Its raised elevation along the Hudson Palisades also makes it an ideal location to enjoy sweeping views of the Hudson River and downtown Manhattan.
Top 5 Things to Do in Weehawken
Whether you've recently moved to the area, are planning on moving to Weehawken, or are even visiting as a tourist, there is no shortage of things to see and do. From river tours and memorials to parks and other points of interest, Weehawken has something to offer for everyone. Take a look at our list of the top five things to do for a little inspiration. Keep in mind that some of these activities may be weather-permitting and may not be available during the colder months of winter.
1. Take a Skyline Tour at Hamilton Park
Hamilton Park has an incredible history—and today, it is the sight of many recreational and sightseeing opportunities. Specifically, Hamilton Park hosts the site where Aaron Burr killed Alexander Hamilton in 1804. In this park, you can find a small memorial on the rock where Alexander Hamilton allegedly laid his head after he was wounded in the duel. I
Hamilton Park is situated along Port Imperial Boulevard on the Hudson River, offering excellent views of the New York City Skyline and the beautiful river itself. You can also get these views if you are living in Jersey City or living in Hoboken. The park itself is relatively small in size, but there is plenty to see and do here. One of the more popular attractions offered is the recurring skyline tour, which offers some of the best views of the Manhattan skyline.
There are a number of different tour options available to suit your needs. For example, there are both night and daytime tours, with different stops along the way. These tours are actually available all throughout Weehawken, but one of the more popular pick-up locations is right in Hamilton Park. All transportation is included, and most of these skyline tours include stops for views of the Statue of Liberty as well as a visit to Frank Sinatra's hometown. This is a must for those who want to enjoy a "behind-the-scenes" view of the Big Apple while taking advantage of some incredible photo opportunities in the process.
Hamilton Park also hosts a summer concert series that typically runs on weekends from July through September. These concerts are free to the public, so consider attending one if you'll be in the area during the summer months.
2. Visit the World War One Memorial
While you're at Hamilton Park, you may also want to check out the World War One Memorial. Here, you'll find a number of monuments and inscriptions in honor of those who made the ultimate sacrifice for the United States during what was then simply known as "The World War." One of the most popular attractions inside the memorial is the Soldiers and Sailors monument, which was built in 1930 and contains a number of bronze figures. Many parts of the memorial are specifically dedicated to Weehawken soldiers who served in the war as well. This memorial is a must-see for those stopping in or around Hamilton Park.
3. Enjoy a Walk Through Old Glory Park
Another park worth checking out if you'll be visiting Weehawken is that of Old Glory Park, which is a popular destination on Kennedy Boulevard. This small park is situated quite a distance from the Hudson, but its elevation allows for some incredible views of the river and the Manhattan Skyline. Despite its small size, this park remains quite busy year-round (but especially during the months of spring and summer). It is a popular destination for those wanting to take some gorgeous skyline photos of New York City.
Old Glory Park is also located close to popular Weehawken restaurants and offers walking paths, making it a great place to burn off some calories after dinner with a brisk walk. A family-friendly park, it also offers a small playground for children to enjoy. If you're looking for a hidden gem that's less crowded than Hamilton Park but still offers beautiful views of the area, this is it.
4. Go on a Dinner Cruise Along the Hudson
Thanks to Weehawken's location right along the Hudson River, another popular attraction that both locals and tourists enjoy is that of going on a river cruise. There are several different companies that offer Hudson River cruises, including the Spirit of New Jersey. This particular company offers a range of lunch, dinner, and specialty/holiday cruises to suit your needs. With each cruise, guests enjoy incredible views of the Hudson River and New York City skylines. The boat also stops at a number of must-see attractions, such as the Statue of Liberty, the Empire State Building, and the Brooklyn Bridge, so you can do your sightseeing while you enjoy your hot meal and drinks.
Included in all Spirit of New Jersey cruises are a 2-3 hour ride along both the Hudson and East Rivers, as well as a buffet and unlimited beverages such as water, iced/hot tea, and coffee. Each cruise also has its own DJ and interactive games for everybody to enjoy. Extras and upgrades are also available to take your cruise experience to the next level. For example, consider enjoying a cocktail at the cash bar or making a reservation for a window table for the absolute best views. There is also a professional photographer on-board to take your photo and provide prints on-the-spot.
Additional services and extras are also available for special events, so reach out to the cruise director if you're celebrating a birthday, anniversary, or other special occasion!
5. Watch the Sunset on Weehawken Recreation Pier
The beautiful Weehawken Recreation Pier opened just a few years ago in October of 2016; this $3.1 million project includes a pier that juts out more than 400 feet into the Hudson River, offering excellent views of the New York City skyline and more. Visit this pier for yourself and you'll enjoy a number of activities, including a unique "kayak pod" where you can rent and launch kayaks directly into the river. The pier itself was actually designed with an innovative "pod" structure, where each pod offers a different activity.
In addition to the kayaking pod, there is also one for fishing, educational visits (such as those from nearby schools), and a  raised pod for viewing.
This pier is also one of the best places in town to watch a sunrise or sunset; consider packing a picnic basket and enjoying a meal as you take in the breathtaking views. There is also plenty of room on this pier to walk, run, or even ride a bike.
Other Weehawken Attractions
While we've picked our top five things to see and do in Weehawken above, there are a few other sights and attractions that deserve an honorable mention and are certainly worth checking out if you'll be in the area.
The Weehawken Water Tower is an architecturally fascinating structure that was built in 1883. Looming about 175 feet over the city, the tower was originally erected to help transport fresh water from the nearby Hackensack River to local communities, such as Hoboken and Weehawken. Originally, the tower was part of a large complex that included office buildings, shops, and other attractions. Today, only the tower stands—and though it is no longer used for water storage and transport, it still serves as a local point of interest. Today, there is even a small park located around the base of the tower and the city hosts occasional events, such as tours and poetry readings, inside the renovated tower itself.
Weehawken also has a 9/11 Memorial, which is located along the Hudson Riverfront on Port Imperial Boulevard. This memorial opened in 2011 and consists of two large beams that were salvaged from the World Trade Center site. The memorial also features an infinity pool and fountain, serving as a reminder of the lives lost on that fateful day in United States history.
Weehawken also has a public library, which is located in a historic building on Hauxhurst Avenue. The building first opened as a library in 1942 and was both renovated and expanded in 1997. Today, it offers 25 computers available for use to the public, as well as a historical room and a community room. For children, there is also a dedicated kids' reading area. Throughout the year, the Weehawken Public Library hosts a wide range of free events, including book readings and classes for children of all ages.
Whether you'll be visiting or living in Weehawken, you'll also want to check out Park Avenue, which runs through the center of town and is a hub for all kinds of shops, bars, and restaurants. You could easily spend an entire day shopping and dining along Park Avenue. When you're done, there are a number of parks and other attractions within walking distance as well.
Getting Around Weehawken and Beyond
If you'll be traveling to Weehawken from another destination, you'll find that the easiest way to get from local airports like Newark and La Guardia is to take a bus or train to the Port Authority Bus Terminal in Manhattan. From there, you can easily catch a bus through the Lincoln Tunnel into Weehawken. The town is also easily accessible through the popular PATH rapid transit system.
Once you're in Weehawken, having a car is certainly the easiest way to get around. There is a decent amount of public parking available for those who have rented cars or who have driven their personal vehicles into town. Bus service is also available throughout Weehawken and Hudson County, though schedules and stops can be somewhat unreliable. For those wanting to take a day trip into Manhattan, there are many 24-hour bus services that offer rides to and from Weehawken and downtown.
Some parts of Weehawken are easily walkable, including areas such as downtown Park Avenue.
Considering a Move to Weehawken?
Many people who live and work in New York City are making the move to Weehawken, and for good reason. Not only is the cost of living significantly lower here than in the Big Apple, but many people also prefer the smaller town vibe that Weehawken has to offer. There is less hustle and bustle, as well as a less dense population. Still, Weehawken is close enough for most to continue with a daily commute into work in downtown Manhattan and other parts of New York City. Ferries, the PATH system, and bus routes are all viable means of getting to New York City from Weehawken and back as part of your daily commute.
Many also enjoy Weehawken for its historical significance and the lower costs of rent/home ownership. Your money will go a lot further in Weehawken than it will in New York City when it comes to renting or buying a home. This makes it a great place to start or raise a family, as there are many more single-family homes available with yard space and more square footage.
If you're considering a move to Weehawken to enjoy a more relaxed and stress-free lifestyle, you may also want to look into hiring a Weehawken professional cleaning company. A reputable company like Maid Sailors can provide you with the move-out cleaning you need to get your security deposit back at your NYC residence and handle any move-in cleaning or regular cleaning you may need at your new place. From there, you can relax and enjoy the slower pace of life here in Weehawken while still being close to all the action that New York City has to offer.