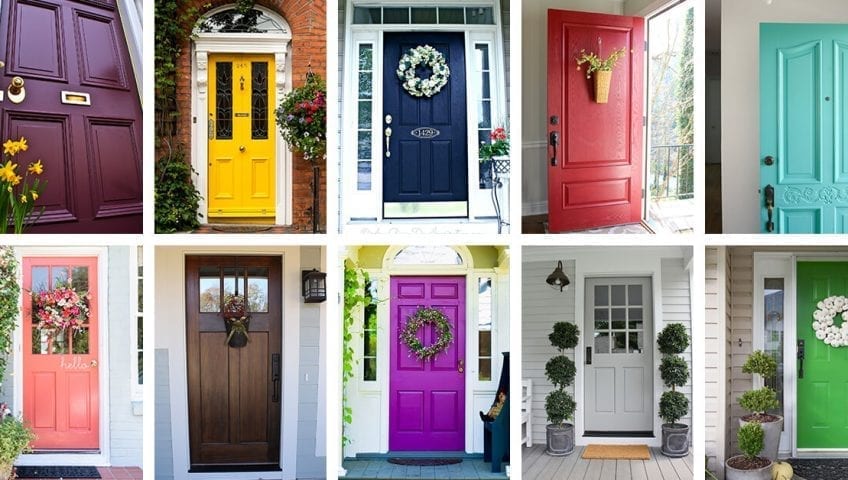 Plants And Colors That Go Best With A Bright Front Door
There is nothing more welcoming than beautiful, bright front doors. Painting your door a bright, bold color is among the easiest techniques to change the entire look of your outdoor and create a beautiful or a welcoming first impression.
Once you have selected a vivid shade of orange, red, purple or lime, it can be difficult to know other outdoor colors that work well with it. You can make your entryway with beautiful garden plants and paint colors that complement your bright front door. Here the main ways that plants and colors go best with bright front doors.
Color Strategies
To achieve a beautiful outdoor, you should balance your bright front doors with outdoor paint and the window trim in a neutral color that will enhance and complement your door color. Evergreen shrubs, flowering plants and potted flowers placed by your entryway provide you and your family with another opportunity to match a bright front door. You can also pull bright paint colors into your landscape with flowering plants and bright berries in a similar hue or utilize the blue-green or dark-green plants to balance the bold door.
Coral
Coral is an orange-pink paint that makes your home exterior feel cheerful, attractive and a little daring to implement or use on your front door. You should emphasize bold coral with the outdoor paint in medium grey or charcoal. In both summer and spring, coral mixes well with the tropical blooms and lush foliage such as peachy-petaled rose and creamy yellow trumpet. During winter, the coral acts as a welcome sport in the darker and sparser landscape.
Aqua
Wake up your home's exterior with an unexpected range of light turquoise plants and flowers. The bright, spring-like color seems equally fresh both on traditional and modern homes. It pairs well with light grey or white outdoor paint. For landscapes that work well or favor foliage plants over flowers, you can pair them with a blue-green front door with Stachys Byzantine or a silvery lamb's ear. You can also match your door and entryway with medium-green shrubs such as pittosporum and boxwood. Also, egg blue paint looks charming, particularly with mixed pastel-colored blooms and cottage-style perennial beds.
Paprika
A rich red-orange outdoor color is an essential and useful transitional color. You can use it to create stark and make your modern home feel more inviting and warm. It also provides the traditional-style homes with a contemporary edge. To achieve the much-needed beauty, you should mix it with outdoor paint colors in cool-toned grey such as weathered natural wood and charcoal. For plants and flowers, chose those with blue-green foliage and grey-green foliage such as the dusty miller or the honeybush that acts as a cooling complement for the fiery-hot paint.
Chartreuse
Lime green is a common color selection for a bright front door particularly those on the contemporary-style homes. Your home will feel modern and fresh without looking like you are trying all your best to make it beautiful. Also, it works well with various exterior paint colors like grey, white, black, navy, brown and beige. Pull your lime color into your garden beds with various accents of chartreuse foliage plants like the coral bells or Mediterranean spurge. For beauty and more drama, you can pair chartreuse with blue-green or dark plum-colored foliage plants such as the purple smoke bush.
Meyer Lemon
Meyer lemon makes your home exterior feel more fresh and beautiful. It also makes your front door feel carefree and contemporary. A yellow color also works well with a traditional-style home when you picture it with white trim or light grey siding. To achieve a modern look, you can use both yellow and stark white or black color palette which is readily available.
Variegated or dark green foliage plants, as well as yellow-centered flowers, would make excellent entryway shrubs for this look. Draw the yellow lemon into your landscape with the citrus tree in front of your yard. All the citrus fruits ripen during the winter, providing both homeowners and visitors with a welcome surprise of color in a subdued landscape. Also, a splash of punchy orange color on your front door immediately attracts or draws attention to entryways from a sidewalk. Shiny or bright shades of orange colors work well with mid-century modern-style homes with neutral color palettes or clean lines.