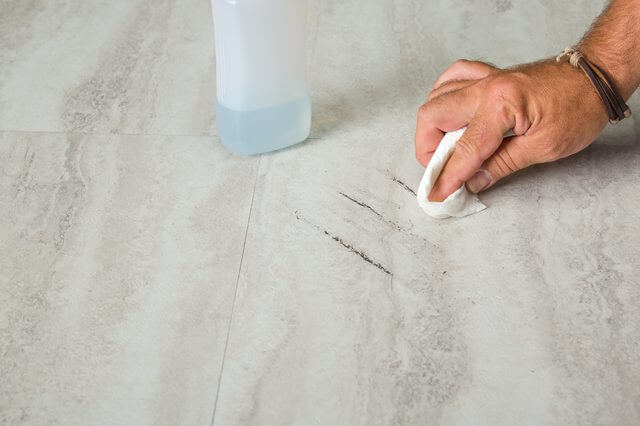 How to Remove Scuff Marks From Floor
If you have any kind of solid floors in your home, whether it be hardwood or tile, there's a good chance you have some scuff marks on your floors here and there. If you're annoyed by unsightly scuff marks that haven't easily buffed out with a little elbow grease, then it may be time to explore other methods. The good news is that those scuff marks don't have to be permanent; you just need to know the right methods to get rid of them based on what caused them and what type of floor you're working with.
Do Those Scuff Marks Really Matter?
Aside from being an eyesore, are scuff marks on your floors really that big of a deal? Well, maybe. If you're renting your place, your landlord may dock you part of your security deposit if there are scuff marks on the floors when you move out (as long as they also weren't there when you moved in). That's because your landlord or property manager will most likely need to hire cleaners to get rid of the scuffs prior to the next tenant moving in, which costs money.
And of course, scuff marks can really detract from the overall look and feel of your place. Depending on the type of flooring you have, scuffs could even lead to permanent discoloration if they're not addressed quickly. This is most common on porous flooring types and laminate.
Potential Causes of Floor Scuff Marks
How did those marks get there in the first place, anyway? In most cases, scuff marks are caused by dark-soled shoes. If you wear shoes in the house regularly, there's a good chance that's the culprit. Check out our guide to clean white shoes. Moving furniture around can sometimes cause scuff marks to form as well, especially when it comes to tables and chairs with dark rubber furniture pads on the legs.
Easy Methods For Removing Scuff Marks
Ultimately, the best method for removing scuff marks from your floors will depend on the type of flooring you have. If you have wood floors, you'll need to be especially careful because harsh chemicals or other rough cleaning methods could strip away the protective varnish on the wood, exposing it to potential damage and discoloration.
For Wooden Floors
To be safe, then, start by attempting to remove scuff marks from your wood floors using a tennis shoe. The key here is to use a light-soled tennis shoe (preferably white or off-white). Of course, you'll need to make sure that the bottom of the shoe is clean as well. From there, simply insert your hand into the shoe and apply pressure between the sole and the scuff mark on the floor. Sometimes, moving the sole in slight twisting motions can be effective as well. Either way, this method is safe on delicate floors (including wood) and is usually pretty effective.
Another option to try is using a large pencil eraser, such as the ones you can find at your local office supply store. Again, it's important here that the color of the eraser is something light—otherwise, you could end up leaving more scuff. To begin, take a clean and damp microfiber cloth and rub it over the scuff mark. Then, use the eraser on the scuff mark just as you would pencil markings that you wanted to erase. The scuff mark will come right up; then, all you need to do is vacuum or wipe up the remaining shavings left behind by the eraser.
For Tile, Laminate, and Other Hard Floors
If you need to remove a scuff mark from another type of flooring material, such as ceramic tile, laminate, or vinyl, there are some other methods you can try if the above aren't effective.
One option is to apply a small amount of nail polish remover onto a clean microfiber cloth and then rub the scuffed area in small, circular motions until the scuff is gone. Just be sure to wipe over the area again with a damp towel to remove any excess acetone and dry thoroughly. Also, keep in mind that nail polish remover can be harsh, so it's a good idea to test it on a small and inconspicuous area of your flooring before moving forward.
Another potential method for removing scuffs on more durable floors is to use baking soda. Specifically, you'll want to mix equal parts baking soda and warm water to create a relatively thick paste. Then, using a microfiber cloth, apply some of the paste to the scuffed area of flooring and rub in circular motions until the scuff is gone. From there, simply wipe clean with a damp towel and dry quickly. Baking soda is very effective in removing scuffs from floors because it's a mild abrasive, yet it is gentle enough to not do damage to these types of floors.
Protecting Your Floors From Scuff Marks
Now that you've rid your floors of those pesky scuff marks, what steps can you take to protect your floors in the future? One of the best ways to avoid scuff marks on your floors is to simply not wear shoes in the house. When you have guests over, ask them to remove their shoes at the front door. Set up a small bench and shoe rack so guests and others living in your home have a place to take off and store their shoes when they enter.
You may also want to apply felt furniture pads to chair and table legs throughout your home (at least for the furniture that's located on your hard floors); these won't leave any scuff marks and will make it easier to move your furniture around. Felt furniture pads are also extremely inexpensive, can protect your floors from scratches, and are very easy to install. Most can stick on to the legs of your tables and chairs using a strong adhesive.
Get Help Keeping Cleaner Floors (And More!)
After putting some time (and elbow grease) into removing scuff marks from your floors, you may be understandably tired. The last thing you probably want to think about is cleaning the rest of your house or cleaning your office. The good news? You don't have to! Let our team at Maid Sailors help you achieve a sparkling clean home so you don't have to lift another finger.
We offer a wide selection of cleaning services to suit your lifestyle, from regularly scheduled cleanings to deep cleanings, move-in/move-out cleanings, and everything in between. Set up an appointment with us today by using our convenient online form or give us a call at (212) 299-5170 to find out more.