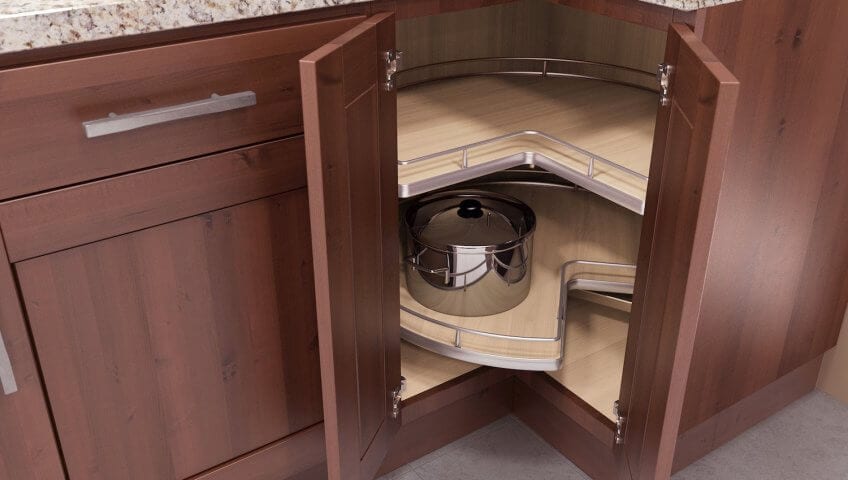 How to Clean a Lazy Susan
The Lazy Susan cabinet has been a kitchen staple for many decades; this type of corner cabinet typically opens to reveal a series of turntables, which can be used to store food and small kitchen appliances. The tables can then be spun to retrieve food and other items as needed. When properly organized, a Lazy Susan cabinet can really come in handy—providing clever storage space in even the smallest of kitchens.
Over time, however, a Lazy Susan can easily become disorganized and even downright dirty. Crumbs from food stored inside a Lazy Susan can build up, as can grease from food, utensils, and small kitchen appliances. This can not only be unsightly for you (and your house guests) to look at but could pose a health risk as well. Furthermore, a disorganized Lazy Susan can add unwanted clutter to your home—and if you haven't cleaned out this cabinet recently, there's a good chance your Lazy Susan is harboring expired food or other items you no longer use.
By taking the time to properly clean and organize your Lazy Susan on occasion, you can keep it clean and potentially free up some storage space in the process.
How to Clean a Lazy Susan
Not sure where to begin when it comes to how to clean a Lazy Susan? We've got some practical tips and step-by-step guidance. One of the biggest challenges people tend to face when cleaning out this cabinet is its somewhat awkward set-up. The back of the cabinet can be somewhat difficult to reach, as can areas of the cabinet's base. Still, with the right tools and a little elbow grease, you can have your Lazy Susan clean and organized in about 30 minutes.
Remove Items From Shelves
The first step is to take everything out of your Lazy Susan. This will allow you better access to the shelves so you can properly clean them. It will also give you an opportunity to take inventory of what you've been keeping on the shelves so you can decide what you want to keep and what you need to get rid of.
Don a Pair of Cleaning Gloves
This is also a good time to put on a pair of quality cleaning gloves. This will protect your hands from exposure to any cleaning chemicals you may be using. A thick pair of reusable cleaning gloves is recommended here (like the type you would wear when cleaning a bathroom), but even a disposable pair of latex gloves would work here.
You'll also want to make sure you're working in a properly ventilated area if you'll be using any harsh kitchen cleaners or degreasers. If your kitchen has a window, you may want to crack it open; otherwise, a properly placed box fan should do the trick.
Vacuum Up Loose Debris
Using the hose attachment on a vacuum, begin by vacuuming up any loose debris from inside the Lazy Susan. The smaller the hose attachment you have to work with here, the better. Pay special attention to the corners/dividers of Lazy Susan shelves, as these tend to accumulate lots of crumbs and other debris. If you're able to access any of the cabinet's base, use your vacuum hose to remove any loose debris from here as well.
Create a Cleaning Solution
Next, it's time to work on cleaning the shelves more thoroughly. Over time, grime and grease can build up in layers on these shelves. This is especially likely if you use your Lazy Susan to store small kitchen appliances or cookware, such as pots and pans.
In most cases, you can create your own cleaning solution to cut through everyday grease and grime. To do this, simply mix a few drops of your favorite dish soap into a bucket of warm water. From there, you can use a sponge or rag to scrub away grime from the shelves. For the best results, wipe in circular motions. Follow up with a dry cloth or paper towel to dry.
Use a Degreaser For Heavy Buildup
If you're happy with the results from using your own cleaning solution, there's no need to complete this step. However, if you're still noticing lots of grease and grime buildup, then you may need to follow up with a heavy kitchen degreaser to get rid of it all. You can find these products at your local grocery store; always do a spot test in an inconspicuous area before using on your shelves, though (especially if you have wooden shelves).
When sprayed and left on for a short period of time before wiping clean, a kitchen degreaser can break down even the toughest of grime so you can restore your Lazy Susan cabinets to their original cleanliness.
Wipe the Shelves Clean and Dry
If you used a kitchen degreaser or any other harsh chemicals, be sure to wipe the shelves down one last time to remove any chemical residue. From there, you can use a clean cloth or fresh paper towel to dry your cabinets out completely.
Organize Your Clean Cabinet
Now, all that's left to do is to replace the items you removed from your Lazy Susan. This is a great chance to properly organize everything and toss out items you no longer need or use. You may even wish to add some organization to your Lazy Susan in the form of small storage bins or other accessories. From there, you'll be able to easily locate everything you need in your freshly cleaned Lazy Susan cabinet!
Let the Professionals Handle It
In most cases, you should be able to get your Lazy Susan cabinet cleaned within about 30 minutes of your time. Of course, your time is valuable—and there are other things you'd rather be doing. That's where our team of cleaning professionals can help. Contact Maid Sailors today to set up your cleaning appointment. Our deep cleaning services include a thorough cleaning of homes that have not been professionally cleaning in over 3 months (like your Lazy Susan and more!).