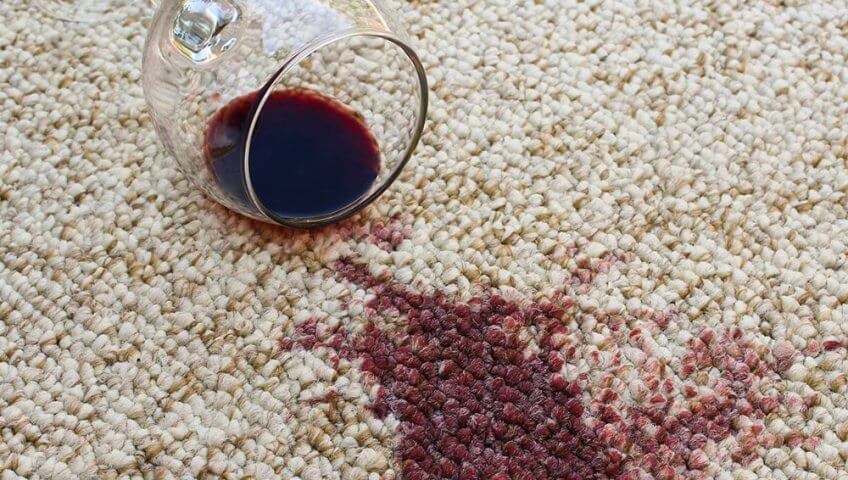 How Do You Get Wine Out of a Carpet?
Pre-Treatment
One of the best things you can do is pre-treat as soon as possible. The longer red wine remains on your carpet, couch, or clothing, the harder it will be to remove. After a spill, dip a sponge into cold water and squeeze gently over spilled wine until liquid has been absorbed, or blot excess liquid with paper towels or an absorbent rag. This helps prevent any further staining. But keep in mind that vinegar is less effective when used alone; so when dealing with red wine stains, make sure you use an absorbent sponge to soak up as much liquid as possible before adding vinegar—or else it will just sit there soaking up moisture from your carpet and cause even more problems down the road!
Use White Absorbent Materials.
If you're looking for a way to clean up that one big spill, place some white absorbent material on top of it and allow it time to soak up all of that spilled wine. Some good options include paper towels, coffee filters or even old rags. Don't forget—these materials may take a while to soak up all of those pesky wine stains, so be patient. If you have some extra time before you need your carpet back in pristine condition, consider placing an absorbent sheet on top and then covering it with a towel. This will prevent spillage from spreading while allowing your materials plenty of time to work their magic.
Use a Few Drops of Dishwashing Liquid on the Wet Spot.
Wait 30 minutes, and then blot with a clean, absorbent cloth. If that doesn't work, make a paste out of baking soda and water and spread it over the wet area with a brush or your fingers. Let dry before you wipe up. Then try using club soda or rubbing alcohol—it might take several applications—before moving on to more powerful carpet cleaners.
Wait for it to Dry.
If you spill wine on your carpet, don't try to get it out until it's thoroughly dry. The liquid that results when alcohol mixes with water (ethanol and water) creates a cloudy stain that looks like red wine but is more difficult to clean. When your carpet is dry, use rubbing alcohol or club soda and blot up as much liquid as possible. Then mix one part white vinegar with two parts water in a bowl; using an eyedropper, apply a few drops and blot with paper towels or rags.
Blot the Area with Paper Towels Until You No Longer See Any Liquid.
Once you've emptied your glass and pulled out your cleaning supplies, it's time to start mopping up. But, before you dive in, blot up as much liquid as possible with paper towels. This will prevent your cleaning solution from spreading throughout your carpet. And don't rub: You'll just push wine into a fine stain! If there are any visible stains left after blotting, use a mixture of 1 part water and 1 part distilled white vinegar (with no fragrances) and apply it with a sponge or cloth; let sit for 5 minutes. Blot dry with a clean towel.
Wipe with a Clean Damp Cloth.
Once wine is spilled, it's important to act quickly before it has a chance to soak in. Dampen a cloth with water and gently wipe up any excess liquid. The faster you clean up spills, the easier they will be to remove from your carpet or rug. You might even consider buying several white cloths specifically for use on spots and stains on your carpets and rugs; be sure that they are laundered frequently to stay clean.