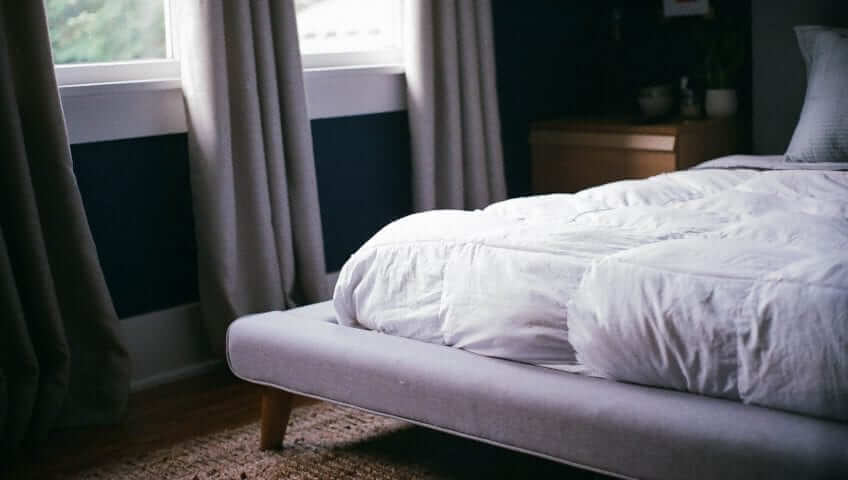 How Do I Throw Out A Mattress In NYC?
You and your mattress have had a good, long run. A lot of dreams and memories. But, now it's lumpy. Maybe it's got a few weird stains that you can't even identify, or a sunken spot you can't stop rolling into. Maybe you haven't been sleeping so well on it lately. Or, maybe it's just old and you know you need to let it go before some of these developments occur. But, who even knows the best way to dispose of a mattress in NYC? That's pretty random knowledge. So, now what?
Why Is It Necessary To Throw Out a Mattress?
You can't keep it forever. The mattress has been through a lot. It's got to go. For one thing, think of the weight a mattress gains over the year, from mites, mite droppings, human dead skin particles, body oil and moisture. An Ohio State University study has published findings that indicate a shockingly hefty amount of poundage is added to a mattress over a ten-year period. Yuck!
There are also increasingly significant sleep-quality issues that can develop from a mattress that's lost its integrity. Those can lead to quality-of-life consequences, making updating your mattress gradually a higher priority.
Benefits of Throwing Out an Old Mattress — Stuffing in an old, worn mattress can lose its elasticity, causing back, neck and hip pain, and sleep difficulties that can lead to reduced energy, irritability, loss of focus and poor performance. Throwing away and replacing an old mattress:
Improves sleep quality
Contributes to improved efficiency and mood
Helps protect overall health
Disadvantages of Throwing Out Your Mattress — People in the city who find themselves faced with disposing of an old mattress and replacing it with a new one discover that it's not the quick and simple task they had once naively assumed it would be. Plus, a new mattress isn't cheap. Disposing of a mattress means:
A time-consuming and laborious disposal process
Learning all the rules and protocols for mattress disposal in NYC
Parting with a lot of money for a new mattress
Throwing Out Your Mattress In The Big Apple
Getting rid of a mattress in New York City is a little more involved than just dragging it out to the curb. The rules for NYC garbage disposal of such big objects are stricter than you might expect, especially for mattresses. Rules for getting rid of used mattresses in the city aren't just about loading large items onto the sidewalks. There are also regulations set up to help prevent widespread bedbug infestations. Yikes! Who would have thought about that! Compliance can actually be kind of challenging.
Rules About Throwing Out Mattresses In NYC
Mattress disposal is governed by the City of New York Department of Sanitation ( DSNY), and they have some strict rules about it. They'll come and collect the old mattress for you when you leave it on the curb. But, you're responsible for making sure that it's sealed up properly in special mattress bag or covering. That's to help prevent the spread of bedbugs throughout the densely populated NYC boroughs.
The DSNY doesn't provide the bags or covers you'll need, so you're on your own finding a bag acceptable for the purpose. They're available at some moving supply businesses, and home improvement and department stores.
What's Involved in Throwing Out A Mattress In NYC?
If your mattress is under 4 ft. x 3 ft. in size, you can simply bag it and put it out on the curb for collection. You don't need an appointment. However, if it's larger than that, you need to schedule with the DSNY to have it picked up.
Next, you bag up the big unwieldy mattress, and the box springs too, if that's your plan, and lug them both down to the curb, only after 4pm on the evening prior to the scheduled pickup date.
You must also ensure that the mattress is not placed in a way that impedes sidewalk pedestrian traffic, or that allows it to stick out into the street, or that imposes on neighbors' properties. Failing to comply with one of the requirements, whether it's improperly bagging the mattress, or placing it on the curb wrong, can cause you to get multiple citations and fines from the city.
Scheduling Mattress Disposal
Trying to work with the DSNY to set a pickup date can create real complications for people on tight schedules. Appointments may have to be scheduled 3 or 4 weeks in advance. That can leave you stuck paying an extra month of extra rent, if you can't dispose of the mattress in time to meet your move-out date. Not a small price to pay at NYC rent rates.
Appointments are not available on City holidays. If collection is suspended during snow operations, appointments for pickup are also not possible. For a next-day pickup appointment, you must schedule with the DNSY before midnight on the previous day.
Don't Accidentally Commit Mattress Disposal Crime
The City does not like bedbugs. In its mission to keep them from spreading, people are fined for improperly disposing of mattresses and box springs. To avoid a $100 fine, you must seal your mattress and/or box springs in a plastic cover or bag, before you put it on the curb for collection. You can get large plastic bags at department stores, home improvement stores, and moving supply centers.
Painless Option For Getting Rid Of A Mattress
As you can see, Option A—doing all the work yourself to get rid of a mattress—is not looking very good. It's long. It's laborious. It's predictably frustrating. There's even risk of unintentionally committing mattress crime, by making a mistake that results in citations. Ugh. So much time and money, tracking down the approved bagging materials, struggling to seal and carry a huge, hard-to-manage mattress, and trying to get a reasonable curbside pickup date, and making sure every rule is obeyed. It's a lot.
Take heart. There's a better way to get rid of a mattress in New York. You don't have to go through all of the researching, shopping, bagging, scheduling, using brute force and worrying about the law. Instead, you can dispose of your mattress with just one quick phone call.
At Maid Sailors, we know how inconvenient it is for city residents to have to turn your attention to dealing with the whole affair of getting rid of an unwanted mattress. We recommend hiring well-trained technicians that provide white-glove removal service for mattresses or pretty much any other large waste items you need to have hauled away. Maid Sailors can then help to sweep and clean up the area afterward too.
To save yourself a pain in your back and risk to your wallet from fines, just call a mattress removal specialist to come and get your old mattress out of your life in a hurry! Completely painless and drama-free.
Reporting A Mattress Violation
If you see uncovered mattresses or box springs that's been dumped somewhere in the city, you can call to have it picked up. If it has been illegally dumped, you are not required to seal it in an approved plastic cover or bag for collection. But, you'll need to call 311 to request to have it picked up.
Why You Need A Cleaning Company
Maid Sailors is one of NYC's premier cleaning services. We provide residents throughout all five boroughs with the full range of NYC cleaning services that you need to live your best life in the city. We offer regular cleaning, deep cleaning, organizing, laundry service, green/eco-friendly cleaning, move-out cleaning, Air BNB turn-around cleaning, and office cleaning. Call Maid Sailors NYC at (212) 299-5170 anytime, to discuss your cleaning service needs.